Digging through February
We are back on track with full-month schedule and Arnold Atanesyan, known as a versatile DJ and the ONYX boss Arnii, is here to help you with your orientation. A thorough digger as he is, Arnii hasn't selected only some events from February's programme, he dug through almost all of them.
Words by: Arnii
Mon 27 Jan 2020
In this edition of "Digging through…" we:
– mark new alliances (OMG yes)
– welcome family back home (ciao Claudio)
– let go off our sins @ Disco Církev (Amen!)
– get blown by wonderful HAAi (hii)
– haul at the moon like wolves (Vlada/Volks, get it?😅)
– aim for the body and the soul (Harmony @ Ankali!?!)
– gather round the sound system and perform healing rituals (in Deviant land)
– imagine a world with no_borders (Mozhgan b2b Solar 🦄)
– light the fire that fuels INFERNO (Endgame is here)
© Dima Alivanov
Please prepare to let your imagination flow wild – untap the creative resources that I know you have and have fun thinking of what to expect in February at your local nightlife mecca that is Ankali. Even though it's the shortest month of the year – February does bring a punch of diversity to your monthly raving routine (rejoice!).
1–2–2020 Ankali x ONYX with D.Dan, arnii, fleika
COLLABORAVE with Ankali and ONYX in the most pristine form. Our collective mindset is finally ready to cross creative paths and bring an artist that we would otherwise "fight" for. Of course, there is no point in fighting with each other – this scene we're in – is our own planet RAVE. We must take care of it and its environment – our future depends on the decisions made today. We can UNITE and work together! For the shared values and for the standards of raving that we can be bend and brake together!
Bouncing off what I just said – Ankali x ONYX focused on finding the right person to soundtrack our ideas. D.Dan was chosen for his tastefully layered and complex in-your-face high-speed techno and contemporary trance accents. Paying homage to the past and having confidence in giving totally new shapes to what's been accepted for norms. Based in Berlin, D.Dan is constantly busy, writing revolt-provoking music or playing at one of the hottest nights in town – Mala Junta. What are these nights like? – I've never been myself, but I heard from a few of my Berlin locals that it's a total body workout – everybody's raving till the last drop of sweat. Sounds like fun!
Lemme go off about the supporting DJs for a bit:
Going back in time, fleika was one of the first local DJs me and Orkhan have booked for ONYX! Since then he grew up to become synonymous with Ankali and extended quality sets. His love affair with ambient can be traced in his prime time DJ sets in the subtly layered grooves – does the trick of keeping the whole set even more immersive. He will open the night and warm up for D.Dan's crushing sound manifesto. 
I'm also playing that night and even though in recent years my sound has changed from once "lazydj-lofi-sadboi" to faster than the speed of light trance and techno un-holly child of Hector Oaks and Paul van Dyk. I'm on the closing duties so expect to be on your A game as I'm taking no prisoners when I play on good sound systems – expect hard trance – UK techno – military grade breakbeat.
D.Dan is one of my top favorite producers at least for the last 3 years. I feel our energies match quite nicely so I'm really honored to be sharing the DJ booth with him and Martin (fleika). We have a great load of work ahead in preparing for IMHO the loudest night of the month! I think I might have to book a day off work next Monday…
7–2–2020 Volumi Dinamici with Claudio PRC & Jane Fitz all night long
volumi_dinamici – the home base of Claudio PRC in Prague. Ever since joining the Ankali family he carries the "A" flag all over the world. Collecting new experiences thanks to his music productions and captivating DJ sets and all-around "sweetest guy you've ever met" personality. All these traits + untouchable work ethic have granted him access to the world's best dancefloors. The list of countries he's traveled to can be matched only by few elite artists and generally resembles a "bucket list" of all the places you've ever wanted to visit. Indonesia, Colombia, Mexico, Japan, Taiwan, South Africa, Georgia, and many others.
Out of all these places, Prague should take a moment to appreciate that Claudio can name it his home away from home. Just several days ago he played in my home town of Tbilisi at BASSIANI to a crowd of hundreds and hundreds of ravers. My GEO friends were there, of course, way past the usual breakfast time. In the comment section (my favorite section) I was waiting till after the event to hear what people had to say. Ravers in Tbilisi are a very demanding audience for any type of artist, they're infamously hard to impress due to the abundance of quality bookings every weekend. So once the comments started to come in, it was heartwarming to find Tbilisi ravers describing their trip with Claudio. One of them wrote: არ ამოგვასუნთქა – which mean "he took our breath away", followed by a response from another raver "ეგეთები არიყოს ჩვენც ხალხივართ" – meaning "pls be careful next time, we are only humans ". There were more recollections of the night, some more imaginative than others but that's what stays in once memory when DJ sets become canvases for hypnotic journeys through time and space (especially when these DJs sets last over FIVE HOURS!!!) Yes Claudio is worldwide phenomena and it's easy to forget about that mostly due to his modest and very friendly personality. I've had the opportunity to meet him last year before #volumi_dinamici with Blazej Malinowski – I saw him in Luft, cracking jokes with locals and inviting everyone to come to Ankali later that night. I went there and found that all my friends and their friends were nowhere to be found in the backstage (a scene surreal and a bit alarming). A few moments later I found them by the sound system, in front of the DJ booth – dancing, with their eyes closed <3.
Now, enough of the memories – I must make space for the new ones when Claudio comes back to Ankali for his first residency of 2020. This time he's bringing along JANE FITZ. That's not what you usually expect to hear after "he's bringing along…".
And that's fantastic for so many reasons!
First, if you haven't ever heard about Jane Fitz – let me explain who this person is. She is a DJ for 20+ years now. It is her DJing skills alone that rewarded her with residencies in the best UK clubs, billings on the world's TOP festivals and curations of various Radio shows (most recently on Rinse FM). Jane is known for vibrancy in the track selection and its ability to lay down a memorizing narrative. It might come as a surprise to see her in the line-up with a darker sounding partner (Claudio our dark lord) – but it's definitely not the first time. Last year on Dimensions Festival she was booked to play The Moat stage – known for purist techno line-ups including names like DVS1 and Blawan. Jane's set was named a Key Performance by RA's Emma Robertson, but don't consider it to be a quantifiable metric of success – trust your ears first and foremost. Before writing this paragraph I took a day off and listened through 10+ hours of Jane's sets – thanks to Rinse FM's SoundCloud archives. Immediately I was teleported to The Moat stage on the coast of Croatia – UK techno, breaks, and acid – grooves that blend into each other masterfully and hypnotically. She succeeds epically in adapting to any type of mood, be it at the club /festival following another DJ or on the radio when she resets the mood and builds it up from scratch. I realized now why Claudio has invited Jane Fitz to accompany him in this all night long b2b – I can see his intention to make this volumi the most dinamici yet.
8–2–2020 Disco Církev with Franz Scala, Exhausted Modern, St. Jakob
Nostalgia and Retro-fetishism are definitely what I like especially if you consider the fact that I'm a total vaporwave snob (yes vaporwave is (still) not dead). So when I heard they booked Franz Scala for Discocirkev my face went  = ̄ω ̄= 
Imagine this: it's 1988 and you're living your entire life in GTA Vice City and getting incredibly tired from all the radio music and mainstream pop DJs play in discotheques around town. You become desperate and walk alone at night. You walk through one of the side streets in Downtown close to Hoarmont Avenue. You turn to an alley you've never walked through before. You look down and see a trail of confetti – you follow it. It leads you to the metal door with a bouncer wearing all black leather and a "Face Control" lady wearing DIY chain accessories. You feel hopeful – a new club? They let you in because your pants game is on point and you're wearing an old jacket patched up by one of your designer friends covered in a bit of glitter from the woman you accidentally ran into while crossing a street. You walk down the dim-lit staircase, people guide you with their gaze – you've found it – the dark dancefloor. You ignore the bar and jump straight into the crowd. The DJ is playing disco, but it's different from all the other disco you've ever heard around town. You lose yourself in an ecstatic celebration of love for synths and Italo.
This is what it was like hearing Franz Scala for the first time – disco but nu, Italo but wavy, slow-motion-sonic-tantra-music. It brings me immense joy relistening to Franz's mixes because they take me back to the past I've never had, in a virtual world where I would feel so lonely and lost without having a club I could identify with.
XYZ's mainstay St. Jakob and a man who needs no introduction – Czech Republic's proudest sounding project – Exhausted Modern. Both will run you dry of your sweat and make you shed any bad vibes off.
14–2–2020 We Still Believe with The Black Madonna, HAAi, Psj
The Black Madonna (aka Marea Stamper) is coming back to Ankali and it seems like she really enjoyed the last time playing for Prague. She didn't choose a festival or a bigger (more commercial) club – instead, she opted to return to Vršovice's very own former soap factory. And I can relate – DJ booth in Ankali is on par with the world's best clubs. The attention to detail is stunning and there are almost always some healthy snacks waiting for the DJs in case they need an energy boost mid-set. Every time I get a chance to play in Ankali it's like preparing for the most important exam that if played well rewards you with memories that stick with you forever. The visibility sometimes gets blurred by the haze – but one could say that it helps you focus more on mixing, and periodical semi-orgasmic screams from the room give you a bonus indicator confirming your directions.
*Enough about the DJ booth* 
WE STILL BELIEVE is a creative successor of Marea's WE BELIEVE radio broadcast on Grand Theft Audio radio station. It evolved from her love for radio from her early days in college learning to DJ to more recently BBC Radio 1 Residencies and Rinse FM shows. WE STILL BELIEVE is also a series of events curated by Marea herself where she takes her favorite artists (this time) from London and travels to destinations far and close spreading DISCO, HOUSE, AND TECHNO. 
I remember playing GTA Online where The Black Madonna had an in-game cameo. I owned a small club in the port area of Los Santos and my objectives where to pick up Marea from the airport and bring her to the club. It was a saving grace for me because weeks before I could book her in-game, I was stuck with Solomun who wouldn't leave my club… 
Who is HAAi? One of the hottest names in UK underground scenes right now. Originally from Australia Haai has found a new home in London. She is no stranger to BBC's Radio 1 or any major festival around the world – but what does she play??? – It's a mix of UK techno – big room energy bangers, that have a traceable heritage to the early rave scene of the 90s – with a fresh perspective and trancy bits here and there, HAAi's sets have a mass appeal of a very broad target audience.
15–12–2020 Ankali x Wildt with Vlada, Eva Porating & Mutuju, Denny Krygr & Kirill Astra
What happens when you take the likes of Wildt's consistent Minimal House/Techno bookings and combine it with the sound and aesthetic of Ankali? A semi-regular collaboration that gives a runway for the artists to take flight and show their darker (maybe) and even faster selections. First time I heard Vlada was when Kirill Astra booked her to play the Dancing House in a distant 2k17. I was on the opening duties that night and once Vlada started to play – I couldn't take a single moment away from the back of the DJ booth following every step of hers (trying to shazam in my pocket every track she would put on – yes I used to be that guy). She quickly became one of the most thoughtful selectors in my eyes from the Russian Minimal Techno scene. Vlada kept coming back to Prague, first to UP fest and later to Wildt with a showcase of her VOLKS label. Now it's time to introduce her to the finest and brightest (darkest) of what Prague has to offer. It's clear Vlada loves to come back to Prague but she has no idea what to expect from this night – let's help her feel like home!
First time I met Kirill Astra was in 2014 and I'm happy to have been a part of his event series "Tamdem" from 2015 to 2018. I always looked up to Kirill especially when we were in the same sub-scene of Prague's Microhouse and Minimal Techno(and also because he is a lot taller than me lol). Always on point with his mixing and able to read the room like a psychic – Astra gave me a lot of valuable tips in DJing and helped me meet a lot of people that I'm happy to call my friends today. Denny Krygr is a resident DJ of Wildt club and a true Letná local. Together with Kirill they populate various events during Wildt's monthly program and lay down longest and strongest marathon DJ sets in town. Hearing the boys on the Ankali sound system is something you shouldn't miss out on.
21–2–2020 Harmony Rec. label night
A special edition of Harmony – celebrates a new addition to their growing catalog of releases as well as a new member of the family (Shoal) on their home turf of Ankali-stan. Usual suspects and everybody's favorites Yan, Alfred Czital and Raleigh are all on the bill and will be sharing the night with Scannt, Jamida, and Shoal over 2 stages. Ambient grooves in the living room and faster-than-you-expect-dub-techno in the main room. Shoal is due to debut his EP on Harmony Rec. – a departure from his ambient roots into speedier realms of peak-time techno. 128bpm. No more spoilers.
Cancel your Netflix and Chill, call your friends, and prepare to dive into the 2020 Harmony get-together that will set the pace for the incredible year ahead.
22–2–2020 Deviant with Mark Knekelhuis, Lulu, Kaya, Raphael Kosmos
It makes me happy to see projects such as Deviant to be born. Even though Deviant parties are not exclusive to Ankali dancefloors – they take on their true form within Ankali walls.
2020 begins with a huge booking of master of the radio waves and hypnotic grooves – Mark Knekelhuis and Lulu. Both coming from Netherland. Mark is a local favorite at Red Light Radio and also manages his own self-titled Knekelhuis label. Opening the label back in 2014 empowered Mark to distribute his contagious sonic mantras with artists sharing the same sound aesthetics. Knekelhuis is a home to artists like EYE, Parrish Smith, Job Sifre, and Philipp Otterbach to name a few. 
Lulu is a fairly new name in the Dutch electronic music scene but has already secured a residency at Amsterdam's infamous Strange Sounds From Beyond. Head over to SoundCloud to check out her unique mix full of WAVE – very moody, some vocals, sometimes haunting.
The night would not be complete without a local underground veteran – Raphael Kosmos. You know him as ½ of Endless Illusions – label – magazine – lifestyle brand. Recently he celebrated 8 years of Endless Illusion (you can read more about it here). Expect raw, punchy music with a powerful bassline.
29–2–2020 KSK Inferno with Endgame, Levi, Lorok, Martyyna, NEW MAGIC MEDIA, Ninja Priest
KSK in ANKALI?!?! Pinch me because I think I'm dreaming!
"A night full of devilish sounds and demonic power. Pure inferno encounters"
If anyone is still in doubt about Ankali's progressive attitude and ties to the local scene – go to church and light a candle ¯\_(ツ)_/¯
KSK is a party that's hard to miss – known for their love affair with deconstructed club music and punchy basslines. Afterlife didn't last long and now Inferno is upon Prague as the legendary HYPER DUB's artist and London's BALA CLUB native – ENDGAME is coming to set fire to Ankali. Future dancehall, grime, and reggaetón over industrial voices. Debuting this month are 2 locals: DJ and Producer NEW MAGIC MEDIA and Ninja Priest. Levi of KOSMOSPIEL, KSK's Martyyna and Whiskas' Lorok make a much awaited come back to the loudest former soap factory in the world.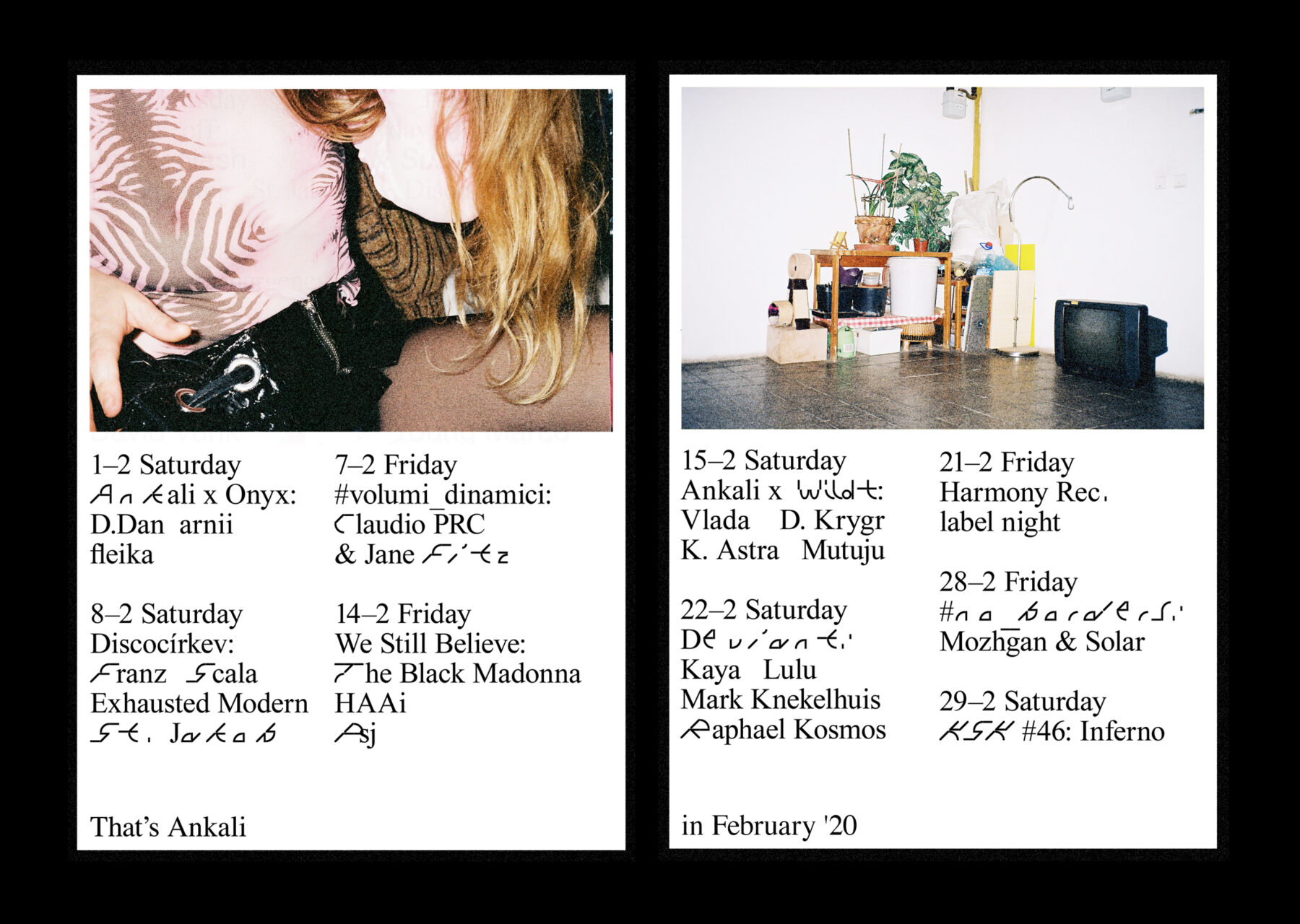 Artwork collaboration with Hannah Saleh.